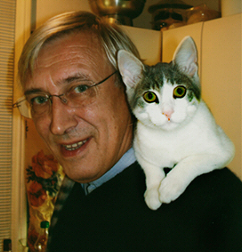 WHO IS...

Marius (Maan) J.H. Jansen was born in 1945 in Velp, the Netherlands as son of an artist. Thanks to the tuition of his father he took his first steps on the artistic path at an early age and he made his first painting when he was eleven years old.
After finishing secondary school he became a professional painter. In the following years he exhibited his work in galleries in several countries, both on his own as well as in groups of other young painters.
His extensive self-training allows him to create art in a wide variety of techniques like oils, acrylic, water color, pastel and pencil. His paintings achieve a high photo-realistic level.
Not only the techniques, but also the subjects of his paintings are various. They also do not have to contain the traditional ingredients. Still lifes for example can be also images of a rusty bicycle or scrap cars.
He found a new challenge in painting wildlife. For the composition of these paintings he pays a lot of attention to the correct anatomy, behavior and habitat of the animals.